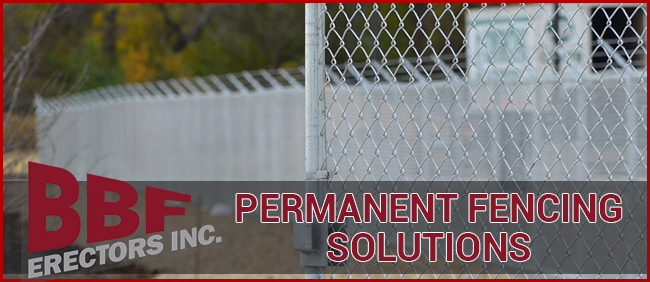 BBF Erectors Inc., has been installing both permanent and temporary fence for over 30 years. We adapt to a wide range of working conditions, always maintaining a high regard for safety and quality construction. We provide on time completion within your budget.
Chain Link Fence: Galvanized, Aluminized, and Vinyl Coated Exterior and Interior Fence. From high security to privacy. Available in all heights, colors, and mesh sized to meet your specifications. Privacy screening and slats available.

Wood fence, sound barrier fence, and PVC fence. All styles and heights.

Gates: Man gates, single swing, double swing, cantilever, overhead track slide gates, crash gates, panic gates and pipe barrier gates. Slide gates up to 80lf. All gates can be custom fabricated in our shop to meet your specifications.

Electric gate operators: From light industrial to heavy duty. All operators are designed to conform and operate based on size, weight, swing or slide and daily operations. Available options include key pads, card readers and remote control access.

Ornamental steel and aluminum fence. Full selection of styles, heights and colors for either decorative or high security use.

Safety Barriers and Signage
- Bollards
- Parking Lot and Facility Signage
- Barrier Gates and Bumpers
- Guardrail & Handrail

Guardrail: Exterior or interior standard galvanized highway rail, wooden or special order interior rail. Installed in concrete footing, driven or mounted to steel plates.

Wire mesh partitions: Interior or Exterior use for dividers, tool cribs, mechanical equipment enclosures, chemical storage areas and more.
---
For more information, please contact:
Ron Stefanik
Senior Project Manager / Permanent Fence Estimator
630-543-9882 or click here to email.

Don Nietzel, Jr.
Project Manager / Estimator
630-543-9882 or click here to email.